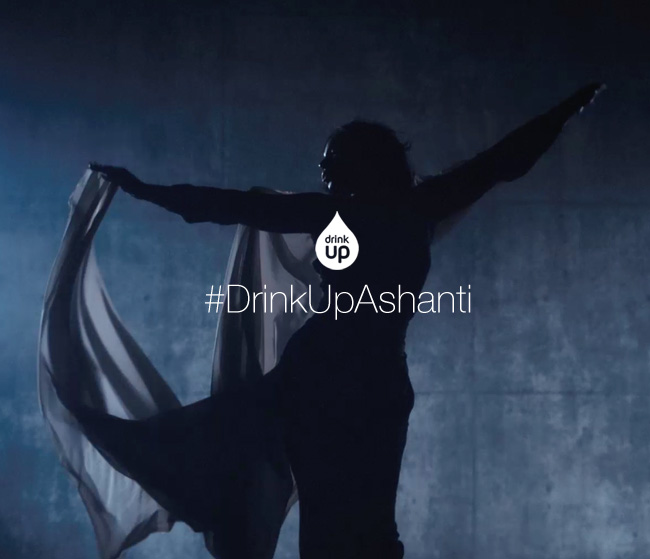 GRAMMY Award-Winner Ashanti's New Single "Let's Go" to be Released With the Help of Fans … And Water
Using the hashtag #DrinkUpAshanti, anyone can 'donate' water on Twitter and Instagram to bring the song and video to life
New York, NY— In a first of its kind program, GRAMMY Award-winning singer, songwriter and actress Ashanti today released her newest single, "Let's Go," but needs fans' help to bring it to life. Until fans hydrate the song with digital water by using the hashtag #DrinkUpAshanti on social media, the song is low-fi and the video is stripped down. The more donations, the better the sound and sharper the video, until it's ready for everyone to download and enjoy.
This collaboration is Ashanti's latest work with First Lady Michelle Obama's Partnership for a Healthier America (PHA) and its Drink Up effort, which encourages everyone to drink more water more often.
"With their hard work and creativity, groups like Drink Up have encouraged people across the country to drink more water, and they have helped increase demand for—and sales of—healthier products," said First Lady Michelle Obama. "From talking fountains to surfing competitions and now through partnerships with artists like Ashanti, Drink Up is proving that if we promote healthier options in fun and exciting ways, and make those options affordable and accessible for families, we can continue to make the healthy choice the easy choice."
By using the hashtag #DrinkUpAshanti, anyone can help replenish the single and music video, which are available at DrinkUpAshanti.com. The more often the hashtag appears on Instagram or Twitter, the more 'hydrated' the single becomes, until eventually the complete song is released.
Simultaneously, the song's video will transform from a black, white and gray color scheme to a gorgeous, richly colored palette that features flowers created by the aggregated tweets. Fans will also be able to go on DrinkUpAshanti.com and see which aspects of the video their tweets brought to life.
"I love that my song is being used to encourage people to make a really easy choice: drinking more water every day," Ashanti said. "It's even more rewarding when it's being done in a creative, positive way. Drinking water is in … it's just cool and sexy. You are what you drink, so drink up. It's also a pleasure to work with the First Lady again to help make the healthy choice the easy choice."
Previously, Ashanti lent her talents to Partnership for a Healthier America by participating in an album titled, "Songs for a Healthier America" released in 2014.
Led by PHA, Drink Up was launched in 2013 to encourage people to drink more water more often. "Let's Go" will be released in four phases, from dehydrated to hydrated. Each time someone uses the hashtag, they will be able to see and hear the results of their contribution. The song will fill in little by little, and once fully hydrated, it will be released for sale on iTunes.
"This collaboration with Ashanti is a whole new way for a brand and an artist to work together, and we are looking forward to seeing how quickly Ashanti's fans can make her newest single drop," said Drew Nannis, PHA's chief marketing officer.
The #DrinkUpAshanti social campaign and music video have been created by ad agencies Y&R (Young & Rubicam) and VML New York.
To help hydrate Ashanti's new video visit www.drinkupashanti.com